Welcome to CapoKids Summer of FUN Camp 2017
Did you know CapoKids is the only licensed Martial Art Schools in Sarasota and Manatee counties. We are so excited to be enrolling for the 17th year of Summer Camp! Camps fill up fast with 3 locations we are here for you and your family: CapoPHS (2240 Proctor Road, Sarasota, FL, 34231 - CapoSRQ (4672 McIntosh Lane, Sarasota, FL, 34232 - CapoLWR (11534 Palmbrush Trail, Lakewwod Ranch, FL, 34202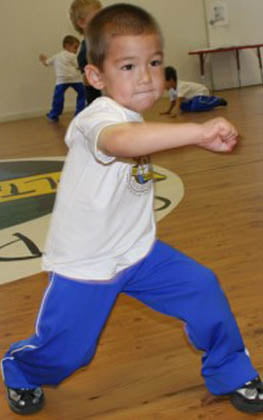 Capoiera Classes
Beginning at four years old, our progressive curriculum and music nurture your little one's growing abilities. Together, you will practice a variety of gentle moves that help develop your child's balance, body awareness and coordination. Children develop rhythm while stimulating the parts of the brain involved in reading and math.
Afterschool
The CapoKids Martial Arts Program is structured! 1 hour Martial Arts, Music, Gymnastics and FUN Physical Activities. Then, there is homework time. After 6pm, it's Family Time!
Summer Camp
This Summer Camp is turning out to be the biggest and the best one ever! After 17 years of experience our teachers and counselors are ready to provide your child<br /> with the best time throughout the whole summer.
Preschool
The CapoKids Martial Arts Preschool received a rating of 100% from VPK by The Florida Department of Education!
Where the FUN happens!
From preschool to classes and camps, our facility was designed to be a fun place for all.
Click on the button on the left to explore CapoKids!
Where the FUN happens!
From preschool to classes and camps, our facility was designed to be a fun place for all.
Click on the button on the left to explore CapoKids!
CapoKids The Brazilian Martial Art Capoeira
We want to encourage "life-long" learners in our program by providing fun and encouraging classes. Our teachers will use The Volta Ao Mundo Curriculum as a guide for developing your child's Capoeira skills. Materials and instruction are developmentally age-appropriate. Daily classes will provide the opportunity for children to work in individual, small and large group settings.
Meet Our Staffs
Professional team that aims to respect your child's feelings, to give them responsibility,independence and freedom to make choices.
Vanessa
Parent
Hi, My name is Vanessa and my son Jacoby has been going to Capokids and has been doing Capoeira for two years now.
Jacoby started Capokids at five years old and I was so afraid that he would not like it much. You see, Jacoby was a very shy little boy, full of energy and not to willing to try new things unless his mommy could be right by his side. We took Jacoby to watch a Capoeira class and then Jacoby was so interested and intrigued that he wanted to go and participate in a class to see if he liked it, after that Jacoby was hooked. Jacoby started going to capokids and he was always so excited to teach me moves or to sing his songs that he had be learning. Today Jacoby is very out going, has made many friends and he has a great confidence in himself and what he can achieve. Jacoby loves every one at the academy and why shouldn't he? The academy is family run and Mestre Rony and Ms.Cheri and everyone at the academy treat you like you are part of the family. We are always greeted with a smile and everyone is always so nice. Not only does Capoeira teach self defense but Jacoby has learned to play instruments, self control and discipline and is learning to speak another language. We are so happy that we gave Capo kids a chance and are so blessed to be part of the family.
Lauren
Parent
I cannot say enough about how great the Capo Vam Fam is!!! From the preschool to the after school program, the teachers are amazing. They truly care for the well being of my kiddos. My kids lives are being enriched beyond a cultural sense, they study capoeira, they sing, they dance. The increased confidence I have seen in my 6 year old daughter is priceless. Miss Eliana, Miss Alexis and Miss Maddie have all been so supportive of her. She started out shy and timid, and just earned her first cord today!! I would recommend this program to any parent seeking to send their kids to an after school program or preschool that teaches more than just a state mandated curriculum. They are loved, encouraged and given positive guidance everyday. We love CapoKids and we are so glad we found them! It's changed our lives!! Thank you Miss Cheri, Mestre Rony, and all your wonderful teachers!!
Karol
Parent
Capokids is our second family! We moved here two years ago from GA and my kids had only known a home daycare setting. I did a lot of research and came across Capokids which had a 5 star kindergarten readiness rating. As an occupational therapist, I loved that they incorporated movement and music throughout their day and It was no surprise to me that they had a 5 star readiness program! I enrolled my son for preschool and then pre-k, and he currently attends Capokids after-school program, everyday, with my daughter (2nd grader). I also now take the adult classes, and my kids love it so much that they want to stay for my classes! It is a great adult fitness program as well! You will be so happy that you and your kids joined this amazing program!
Enrollment Is Now Going On, Please Contact Us.